2021…We start from scratch but we don't let go!
Here we go! Another year has gone by at lightning speed and it's already time to take stock. In the 13 years that Freemove has existed thanks to you, 2021 will remain the most difficult year to live… a year of transition perhaps… at least I hope so!
It is clear that the health crisis, supported by a rather rotten summer weather, will have plunged our tourist activity of guided tours in Segway, the one for which I have always invested myself, as well as my seasonal partners, so much we love to meet new faces and to embark them in our wheeled adventures full of surprises through the alleys of our beautiful Touraine cities! But we have to admit that the somewhat gloomy atmosphere and the near absence of foreign tourists have sent us back to our 22 as they say in Rugby!
As a result, Freemove's survival has completely shifted to the online store, which continues to develop nicely and which was until now only a comfortable supplement to our tourist business. And there, we put our finger on a small problem which, I must confess, still troubles me today… We don't have enough margins to live only from this store….
In fact, we are stuck between a rock and a hard place… that is to say, our customers and our American suppliers… who have become our direct competitors.
– Either we align ourselves with their selling prices which, I remind you in passing, are displayed without VAT and in this case, our margin is too low…
– Or we apply a normal sales margin which should be around 30% and in this case, our European customers naturally turn to the American market because they think we sell too expensive…
My accountant will tell you that it is the price of work, storage, and the comfort of being able to receive in 24 hours his little parcel in his mailbox… Yes, but my accountant is not behind his computer to compare prices before heating his credit card for accessories that cost for the most part an arm anyway!
In short, we are impatiently waiting for the return of the beautiful days and the tourists in order to rebalance the Freemove machine which was perfectly oiled until now!
but 2021 is also full of great moments!
The highlight of this year will undoubtedly remain the participation in the E-Games in mid-July in La-Teste-de-Buch! A great weather, an impeccable organization (thanks Greg!), friends, great meetings, hours of riding in the beautiful landscapes of Landes… In short, what a pleasure!
We don't know when and where the next edition will be held because of the difficulties to organize this kind of meeting but one thing is sure, we will be there with a smile!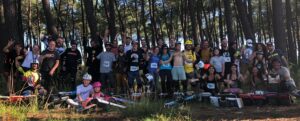 This last quarter will have seen the launch of our new website which has been simmering for several months in the hands of our developers who lost some hair in front of our demands! But it was really worth it not to get impatient by burning the stages! The result is really up to our expectations and I am still discovering the pleasure of working on this new fast and powerful tool!  The feedbacks are all very positive and I hope that this showcase will help us to boost all our activities! Thanks again to Arthur and Gregoire, as well as to my friends from Supersoniks who followed me during these first 13 years before handing over!
A great cleaning for 2022 with you!
So to finish this year in beauty, we are going to make a big cleaning of our premises and our stocks to prepare the best for the next season and take some vacations in January! So instead of giving you a broom to help us in the task, I suggest you to empty our shelves by taking advantage of 20 days of promotions on all our Onewheel accessories!
The deliveries will be assured, within the limit of the available stocks which will be updated daily, until Christmas. Then, it will be a little slower until the end of the year because we will also make some parties on our side!
Happy end of year to all, take care of yourselves and your loved ones, and see you soon I hope for new adventures!
Nico and the Freemovers